The Garmin Approach R10 is a new, relatively affordable golf launch monitor. It isn't aimed to compete with almost $20,000 of TrackMan hardware, but most golfers know what they are getting with TrackMan, so here we show you how the Garmin Approach R10 stacks up vs TrackMan 4.
TrackMan sets the bar, and all other launch monitors strive to achieve the same accuracy and usability. We have a full Garmin Approach R10 review here, but in this article, we'll give you a swift rundown of the Garmin Approach R10 vs TrackMan in key areas.
TLDR
The Garmin Approach R10 is not a replacement for the TrackMan 4. You can get great ball speed and club speed data from the Garmin Approach, resulting in accurate distances (1-5 yards). However, when we measured the lateral misses of the golf shots, the Garmin Approach R10 did not keep up with TrackMan (2-15 yards of error).
The Garmin Approach is great for a fun budget simulator setup with okay accuracy.
The Garmin is great for golfers wanting to work on distance control and improving driving distance.
We wouldn't recommend the Garmin for golfers mainly buying it for impact data, such as swing path and face angles.
The Garmin Approach R10 offers an incredible amount for the price and comes with great software to track your progress between sessions.
Garmin R10 vs TrackMan overview
Garmin Approach R10
Small and compact portable launch monitor.
Connects to the Garmin Golf app for data tracking and analysis works with iPhone, Android and iPad.
Provides data on shot outcome, ball data, and club head data including ball speed, clubhead speed, launch angle, carry distance, launch direction, total distance, club path, face angle, face to path, apex height, smash factor, angle of attack and swing tempo.
Can be used as a golf simulator with more than 42,000 preloaded golf courses around the world available for you to play (these do require an annual subscription).
Comes with a carry case tripod stand, and phone bagc lip to make it easier to record data accurately.
Great portability and quality of the build, small enough to fit in your golf bag, phone clip helps for easy functionality on the range.
Has to be manually calibrated to a target using the small line on the device – takes some trial and error.
Trackman 4 Launch Monitor
A comprehensive launch monitor with indoor and outdoor capability.
Connects to PC, iPad, iPhone and Android.
Comes with access to 500 of the world's most famous courses (annual subscription needed).
Create on-course simulations and challenges to work on improving and tracking your golf game
Complete putting and club fitting functionality.
Metrics that can be measured include: Club Speed, Attack Angle, Dynamic Loft, Club Path, Face Angle, Face to Path, Spin Loft, Swing Plane, Swing Direction, Low Point, Impact Height, Impact Offset, Dynamic Lie, Ball Speed, Smash Factor, Launch Angle, Spin Rate, Launch Direction, Spin Axis, Height, Curve, Landing Angle, Carry, Side, Total, Side Total
Putting metrics that can be measured include: Club Speed, Backswing Time, Stroke Length, Forward Swing Time, Tempo, Dynamic Lie, Attack Angle, Club Path, Face Angle, Face to Path, Launch Direction, Ball Speed, Skid Distance, Roll Speed, Speed Drop, Roll %, Break, Entry Speed Distance, Total Distance
Comes with a carry case, and has a built-in stand function.
Is digitally calibrated using the built-in camera and radars – allowing accurate data to be collected from your first shot.
Garmin R10 vs TrackMan – Accuracy
Let's start with the most important category accuracy. We are not expecting the Garmin to match TrackMan, but is it accurate enough to be useful?
Take a look at all of the shots that we hit using the TrackMan launch monitors and the Garmin R10 below. As you can see, when we look at carry distance both are pretty similar. In fact, for the price, the Garmin Approach R10 is pretty impressive when it comes to distance.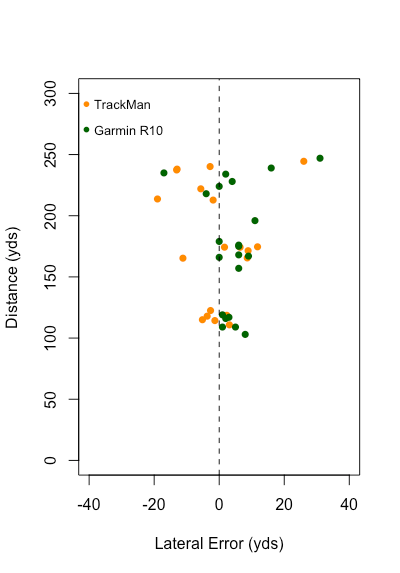 However, the dots on this graph are not directly on top of each other, the Garmin Approach isn't as accurate when it comes to tracking how far left and right golf shots fly.
The Garmin Approach R10 does not do a great job of measuring lateral error. When we get to the club data, we'll see that there is a deeper reason for this error.
For an average golfer looking to gain some yards, track shot distances and have an affordable simulation software setup, the Garmin is a good value solution. For golfers looking to try and make a run at a professional career and wanting accurate data on lateral error, the accuracy of the Garmin R10 is not the right option for you.
Playing & Practice Modes
Both the Garmin and TrackMan offer a vast amount of options here. However, many of the options below require some sort of additional fees – TrackMan does require an annual license ($1,000) for updates and access to all of their latest courses. The Garmin Approach has some free courses but can access thousands thanks to its integrations with different software packages, again requiring an extra cost.
Golf courses
The Garmin Approach R10 claims to give you access to over 41,000 virtual golf courses… we haven't tested them all. There are some fun courses in the basic package and if you upgrade to the E6 software, you can play many of the most well-known courses around the world, including Pebble Beach and Bay Hill.
TrackMan's annual subscription comes with access to 500 of the most well-known courses around the world. You can play The Old Course at St Andrews, before heading off somewhere more tropical for an afternoon around.
Both the Garmin and TrackMan offer exceptional golf courses, just check what you'll be paying on an annual basic for continued access.
Practice options
The Garmin Approach offers you four basic golf ranges to practice on and a weekly tournament if you have a Garmin membership. In the driving range modes, you can access a detailed view into your impact and club head data that we cover below.
TrackMan offers you 10+ driving ranges along with a special target practice area and the ability to drop your golf ball anywhere on any golfer course and start hitting shots. There are a range of in-built skills games and the ability to create your own custom skills challenges.
After 2 years of using TrackMan, I can tell you that I'm still finding new ways to use the software.
Club head data
When you see lower-priced launch monitors, the pricing is often lower because the golf launch monitors don't have club data, such as swing path and face angle. They have ball data which is certainly helpful, but when you can learn things like the swing direction, face to path, and face angle at impact, it becomes considerably easier to understand what causes you good and not so good golf shots and make real changes to your ball flight.
The Garmin Approach R10 and the TrackMan 4 measure both ball and club data, but as we'll see, some of the Garmin's metrics are as good as TrackMan, while others have too much error.
Garmin R10 vs TrackMan – Club Head Speed & Ball Speed
Garmin is no beginner when it comes to technology, and that is evidenced in the graphics below. When you look at ball speed and clubhead speed, the numbers are really close for the TrackMan and Garmin. We found that Garmin is most accurate with ball speed data and then slightly less accurate with club head speed.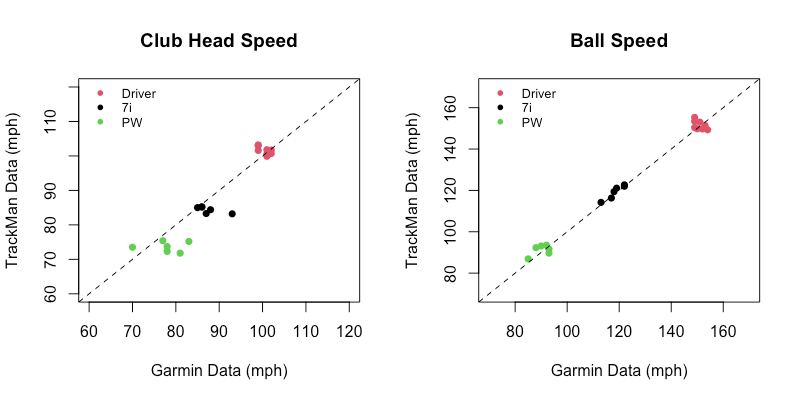 Based on the data above, our hunch is that the Garmin R10 directly measures ball speed and then tries to calculate club head speed, which is why there is a little more error in club head speed.
Garmin R10 vs TrackMan – Impact data
Here is where the real differences lie between the two launch monitors. Again, the Garmin launch monitor is a fraction of the cost of the Trackman, and no other launch monitor in this price range tries to measure these variables, so be aware of that when you digest this information. The most important thing to look at here is the face to path and how far off it can be from the Trackman.
With a 4-degree difference in the face-to-path, we are talking about a large degree of error in golfing terms – roughly 20 yards extra hook/slice in the most extreme situations.
| | | | | | |
| --- | --- | --- | --- | --- | --- |
| | Club Face Angle Error º | Club Path Error º | Face To Path Error º | Angle of Attack Error º | Smash Factor Error |
| Driver | 2.76 | 2.98 | 3.50 | 1.91 | 0.02 |
| 7i | 2.04 | 3.77 | 1.73 | 1.60 | 0.05 |
| PW | 1.51 | 3.09 | 1.39 | 0.06 | 0.06 |
Table showing the average error between the Garmin Approach R10 & TrackMan across different clubs.
For a fun practice round at home or with friends, the impact data from the Garmin Approach R10 and the Garmin Golf app is fine. If you want more details and in-depth information, the TrackMan 4 is or something similar is necessary.
Ease of use & portability
The Garmin Approach R10 is slightly simpler to use and set up than the Trackman, but both are impressively easy to use once you have all the software installed and have used them a few times.
This is even more impressive considering the large amounts of data both offer you during practice and play. Both options are portable and easy to set up and get started in just a matter of a few minutes.
The BlueTooth connectivity of the Garmin is slightly quicker than the inbuilt TrackMan wifi, but we've had no problems with either.
If you are new to the world of golf launch monitors, the Garmin Approach R10 is going to make more sense from an ease-of-use standpoint.
Value
The value here depends on exactly what you are looking for. The Garmin Approach R10 has great value for golfers looking for an indoor simulator that is easy to set up and track things like club head speed. The Garmin Approach R10 can't be called a TrackMan replacement, as it just doesn't have the same functionality or technology when it comes to impact and club path data.
If you want the best of the best when it comes to golf launch monitors, the TrackMan will be what you need. The value Garmin offers compared to other launch monitors in its price range (FlightScope Mevo and Swingcaddie models) is really impressive.
Golf Insider verdict
Take a look at our full review of the Garmin Approach R10 to find out more details on what this launch monitor has to offer and what our experience was like when we tested it.
The Garmin Approach R10 is a great solution for a fun and easy-to-use portable launch monitor. It will do a good job of tracking your swing speed, shot distance and offers a great solution for looking at your practice sessions and data from week to week.
However, if you want accurate impact data, or accurate data on lateral error the Garmin Approach isn't quite up to scratch.
Happy golfing.
Sorry that this article was not useful for you.
Would you mind helping me improve this article?
Tell us how we can improve this post?